Canalys' Smart Assistant Analysis is a continuous information service designed for smart assistant platform vendors, smart assistant device hardware vendors, component providers, mobile and enterprise service providers and related companies.
Delivers detailed data set for analyzing market sizing, addressable market forecasting as well as vendor/product category performance by using consistent definitions and a rigorous methodology - the standard reference for market leaders.
Identifies trends and delivers analysis of competitor initiatives, market performance and shifts in technology product go-to-market strategy.
Goes far beyond tracking to deliver insight and recommendations through reports via analyst inquiry service.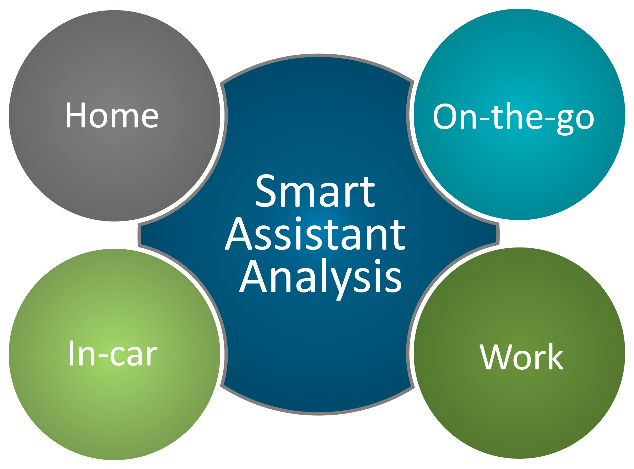 The Smart Assistant Analysis focuses on four key user scenarios: home, work, on-the-go and in-car. The service deliverables consist of smart assistant built-in device shipments and forecasts across user scenarios; regional and top-market performance updates; and routine and ad-hoc research reports that cover major vendors' business models (Amazon's Alexa, Google Home, Apple's Siri) and strategies, key product features and technology trends, and vendor opportunities in adjacent markets.
Key issues addressed
What are the smart assistant vendor strategies and business models?
Which device category will become the most important touch points and what are the size of the total addressable market in three to five years' time?
In which user-scenarios should vendor focus their investment?
Who should hardware vendor partner with to gain AI capabilities to build smart assistants?
What are the best practices of vendors' go-to-market strategies in respective regions?
Deliverables
Shipment estimates across the four user scenarios: Home, Work, On-the-go and In-car

By device category and by smart assistant platform

Forecasts across the four user scenarios
Installed base forecasts
Regional and country level overviews

Analysis of major smart assistant built-in devices market performance
New product announcements, partnership, go-to-market status updates
Trend analysis of regional and leading country market

Forecasts analyses

Assumptions of shipment forecast, installed base forecast
Forecast analysis of the regional market and leading country

Smart assistant hardware and platform vendor strategy outlook
Smart assistant ecosystem partner profiles
All the data you'll ever need!
Access and support
Unlimited inquiry

Direct access to analysts who respond to questions within the topic scope within 24 hours.

Feature-rich tools, unlimited access

Individual access to client website, spreadsheets and published content

Trends analysis

Frequent data and analysis reports produced using a strict methodology and global definitions

Conclusions and advice

Insight and recommendations delivered via analytical reports and direct access to our experienced analyst team.



Request full list of content